Rising Star
BGOL Investor
THE GREATEST PLAYERS IN MAJOR LEAGUE BASEBALL HISTORY





RIGHT FIELDERS

​

When the greatest right fielders of all time are considered, the following names seem to be universally agreed upon by most historians, and appear on virtually every list. As with my prior list, player names will be listed alphabetically, their years in the Major Leagues will appear in parenthesis, and African-American players will appear in red. Also as before, if you know the game, opinions and arguments are welcomed!

​

Henry Aaron (1954-1976)




Bobby Bonds (1968-1981)


Roberto Clemente (1955-1972)
Sam Crawford (1899-1917)


Andre Dawson (1976-1996)


Martin Dihigo (Negro Leauges) (Cuban Descent)
Vladimir Guerrero (1996-Present)


Tony Gwynn (1982-2001)


Harry Heilmann (1914-1932)


Reggie Jackson (1968-1987)


Al Kaline (1953-1974)
Chuck Klein (1928-1944)
Mel Ott (1926-1947)


Dave Parker (1973-1991)




Frank Robinson (1956-1976)


Babe Ruth (1914-1935)


Gary Sheffield (1988-2009)


Ichiro Suzuki (2001-Present)
Paul Waner (1926-1945)


Dave Winfield (1973-1995)




THE GREATEST RIGHT FIELDERS OF ALL-TIME

​

​
A gifted all-around player with few weaknesses, Andre Dawson was exceptional from his first days in the big leagues. A rare combination of speed and power, Dawson was also an outstanding defensive right fielder. An 8-time Gold Glove winner, Dawson also had a cannon for an arm that few runners ever challenged. Dawson had the misfortune of playing a substantial portion of his prime years with the Montreal Expos. Though an excellent team for much of his time there, Montreal was far removed from the media centers of the U.S., robbing Dawson of the national notoriety he deserved during many of his most productive years. More importantly, the Expos played their home games at Montreal's dreary Olympic Stadium, a ballpark that featured one of the worst artificial turf surfaces in baseball, a primary factor in the onset of Dawson's chronically bad knees, which hampered him from reaching even greater heights as a player. Yet, these circumstances didn't stop Dawson from being one of the most dominant players of his generation. The 8-time All-Star became one of the few players in the history of professional sports to be named Most Valuable Player of his league while playing for a last place team when he accomplished the feat as a member of the Chicago Cubs in 1987. Dawson was inducted into the Baseball Hall of Fame in 2010.
​
With an ultra-quiet nature, and a reluctance to communicate with the press due to his broken English, future Hall-of-Famer Vladimir Guerrero will go down as a truly "legendary" player - that is, one who few people ever really knew, in spite of his undeniable greatness. A player who could do everything on a baseball field at the highest level, Guerrero, like his predecessor Andre Dawson, spent the early years of his career with the Montreal Expos, and like Dawson, had his knees ravaged playing on the turf-covered asphalt of Olympic Stadium. A vicious power hitter with excellent speed before the deterioration of his knees, Guerrero also excelled in the field, and had one of the most powerful arms in baseball history. Now nearing the end of his brilliant career, Guerrero is currently the Designated Hitter of the Baltimore Orioles.
​
One of baseball's biggest stars of the 1930's, Mel Ott was the centerpiece of the New York Giants, and one of the greatest home run hitters in baseball history. An early member of the 500 home run club, Ott combined power at the plate with excellent outfield skills. Adept at handling the difficult right field of the Polo Grounds, Ott also had an outstanding arm, and was a league leader in outfield assists. He was inducted into the Baseball Hall of Fame in 1951.
​
One of the National League's all-time greatest hitters, Tony Gwynn was an exceptional all-around player who excelled in the field as well as at the plate. An excellent defensive right fielder who displayed an athleticism early in his career that belied his stocky build, the former college point guard (San Diego State) had speed, quick reactions, and a solid arm. An 8-time National League batting champion and a 15-time All-Star, Gwynn was also a 5-time Gold Glove winner. Elected in his first year of eligibility with one of the highest vote percentages ever (97.6), Gwynn was inducted into the Baseball Hall of Fame in 2007.
​
One of the toughest and fiercest competitors in the history of professional sports, Frank Robinson was an intimidating presence on the field, and one of the greatest team leaders in the history of the game. Known more for his offensive prowess, Robinson was also an excellent defender who was consistently outstanding with the glove, and the heart and soul of every team he played on. Robinson was inducted into the Baseball Hall of Fame in 1982.
​
An electrifying performer who can be spellbinding at the plate or in the field, Ichiro Suzuki is one of the few players who can win a game all on his own, without being a power hitter. Blessed with unusual baseball instincts and blazing speed, Suzuki covers more ground than any player who's ever played the position, and though small in size, has one of the most explosive outfield throwing arms in baseball history. Already a member of the Japanese Baseball Hall of Fame, Suzuki won the American League Most Valuable Player award in his first year in the Major Leagues, and has won three American League batting championships.
​
The centerpiece of the Detroit Tigers throughout the 1950's and 1960's, Al Kaline was one of the youngest players to come into the Major Leagues when he broke into the Tigers lineup at the age of 18 immediately after graduating from high school in his hometown of Baltimore. A great hitter who was the youngest player in Major League history to win a league batting title (20 years old), Kaline was one of the greatest defensive right fielders in baseball history. Blessed with great quickness and one of the strongest arms in the game, Kaline was the winner of 10 Gold Glove awards. An 18-time All-Star, Kaline was elected to the Baseball Hall of Fame in his first year of eligibility in 1980.
​
Though he's automatically considered the greatest right fielder of all-time on virtually every all-time list in existence, Babe Ruth ranks only number 3 on my list. As stated earlier, my personal criteria for judging the greats of the game has a much heavier weighting on all-around play and not just staggering offensive statistics. In other words, when judging the merits of a player, my primary question is, "in how many different ways can this guy beat the opposition?" Much like Ted Williams on the left fielders list, most of the damage that Babe Ruth brought to bear came at the plate. He had no speed. By all accounts, he was only an average outfielder, though he had a powerful throwing arm. Even though I rate him as the single greatest player in the history of the game, (which I will explain in detail in a later list), he only ranks 3rd among my right fielders.
​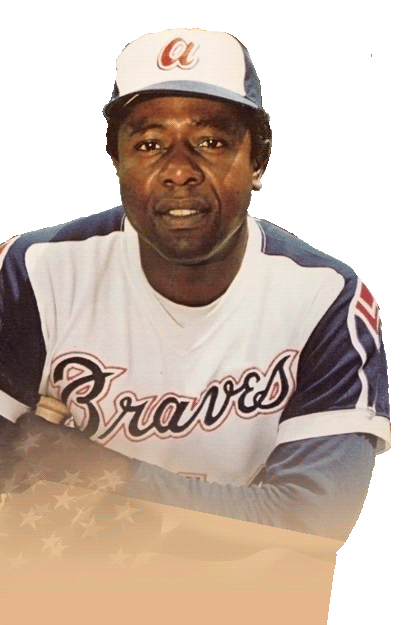 Known to most as the home run king of baseball, outside of baseball purists, few know that Henry Aaron was one of the most complete players of all time. As great as he was, Aaron's main problem in getting the credit he's due historically was coming into the game at nearly the same time as the more flamboyant and flashy Willie Mays. Aaron was to baseball what Oscar Robertson was to basketball, a complete master of all phases of the game, who displayed his skills in a straight-forward, no-frills fashion, while Mays, on the other hand, was Magic Johnson, doing everything with flash, style, and pizazz. Aaron also had the handicap of playing in the relative media outposts of Milwaukee and Atlanta, while Mays spent his entire career in either New York City or San Francisco. Yet, Aaron was an outstanding defensive right fielder with flawless fundamentals. Combined with his legendary skills at the plate, Aaron's complete game puts him ahead of Babe Ruth on my all-time list.
​
As a right fielder, Roberto Clemente simply had no equal. With explosive speed, cat-like quickness, the most powerful and accurate outfield throwing arm of all time, and a regal presence on the field, Roberto Clemente turned right field play into an art form. Baseball's first Spanish-speaking superstar, Clemente overcame the culture shock of arriving in mid-1950's Pittsburgh from his native Puerto Rico, and was able to harness the frustrations from the dual-edged prejudices he faced daily into spectacular, at times almost violent play on the field. A tremendous hitter, Clemente - a lifetime .317 hitter and four-time National League batting champion - was best known for his artistry in right field. A 12-time Gold Glove winner, he was often breathtaking in the field, and several times, threw out opposing runners from the warning track. A 15-time All-Star and the 1966 National League Most Valuable Player, Clemente was enshrined into the Baseball Hall of Fame posthumously in 1973, one year after his untimely death in a plane crash.
​