Rising Star
BGOL Investor
The Top 10 Non-Heavyweight Boxers (1970-Present)
Sugar Ray Leonard
(born Ray Charles Leonard; May 17, 1956) is an American former professional boxer, motivational speaker, and occasional actor. He was the first boxer to earn more than $100 million in purses, won world titles in five weight divisions, and defeated future fellow International Boxing Hall of Fame inductees Wilfred Benítez, Thomas Hearns, Roberto Durán, and Marvin Hagler. He was named "Boxer of the Decade" in the 1980s. He was a 1973-74 National Golden Gloves Lightweight Champion,1975 Pan American Games Light Welterweight Gold Medalist,1976 Olympic Light Welterweight Gold Medalist. He finished his amateur career with a record of 145–5 and 75 KO's. He finished his pro career with a record of 36–3–1 with 25 knockouts.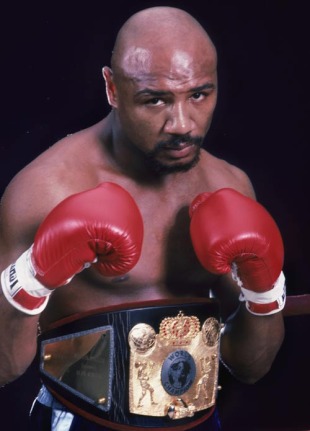 Marvelous Marvin Hagler
(born Marvin Nathaniel Hagler; May 23, 1954)[1] is an American former professional boxer who was Undisputed World Middleweight Champion from 1980 to 1987. Hagler made twelve undisputed title defenses and holds the highest KO% of all middleweight champions at 78%. At six years and seven months, his reign as undisputed middleweight champion is the second longest of the last century, behind only Tony Zale. Hagler is an inductee of the International Boxing Hall of Fame and the World Boxing Hall of Fame. Notable wins:Thomas Hearns,Roberto Durán,John Mugabi.
Roberto Durán
Samaniego (born June 16, 1951) is a Panamanian former professional boxer, widely regarded as one of the greatest boxers of all time. A versatile brawler in the ring, he was nicknamed "Manos de Piedra" ("Hands of Stone") during his career. Many even consider him the greatest lightweight of all time. He held world titles at four different weights—lightweight (1972–79), welterweight (1980), light middleweight (1983–84) and middleweight (1989). He was the second boxer to have fought a span of five decades, the first being Jack Johnson. He finally retired in January 2002 at age 50 with a professional record of 120 fights, 104 wins with 69 KOs. Notable wins:Sugar Ray Leonard,Iran Barkley.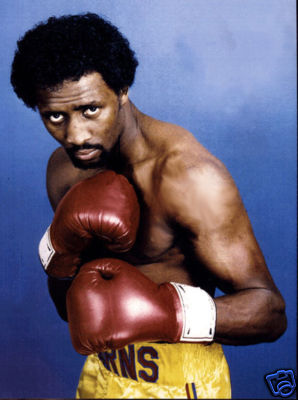 Thomas Hearns
(born October 18, 1958) is an American former professional boxer. Nicknamed the "Motor City Cobra" and more famously "The Hitman," Hearns became the first boxer in history to win world titles in four divisions. He would also become the first fighter in history to win five world titles in five different divisions. Hearns was named fighter of the year by The Ring magazine in 1980 and 1984. In 1977, he won the National Amateur Athletic Union Light Welterweight Championship. He also won the 1977 National Golden Gloves Light Welterweight Championship. Hearns had an amateur record of 155–8. Professional boxing record 61 Wins (48 KOs), 5 Losses, 1 Draw.Notable wins: Wilfred Benítez,Roberto Durán,Virgil Hill.
Pernell Whitaker
(born January 2, 1964 in Norfolk, Virginia), nicknamed "Sweet Pea," is a professional boxing trainer and retired American professional boxer. Whitaker was the lightweight silver medalist at the 1982 World Championships, followed by the gold medalist at the 1983 Pan American Games and the 1984 Olympics. Whitaker then embarked on a pro career in which he became world champion in four different weight divisions.For his achievements, he was named the 1989 Fighter of the year by Ring Magazine.
Whitaker is also a former WBA Light Middleweight Champion, WBC Welterweight Champion, IBF Light Welterweight Champion, WBC, WBA & IBF Lightweight Champion and NABF Lightweight Champion. He is universally heralded as one of the top 5 lightweights of all time. Ring Magazine ranked him at number 10 in their list of 'The 100 Greatest Fighters of the Last 80 Years.' On December 7, 2006, Whitaker was inducted into the International Boxing Hall of Fame, in his first year of eligibility.Whitaker had an extensive amateur boxing career, having started at the age of nine. He had 214 amateur fights, winning 201, 91 of them by knockouts.He finished his professional career with an official record of 40-4-1 (17 knockouts). Notable wins:Greg Haugen,Azumah Nelson,James McGirt.
Héctor Luís Camacho
Matías (May 24, 1962 – November 24, 2012),nicknamed Macho Camacho, was a Puerto Rican professional boxer and singer. Known for his quickness in the ring and flamboyant style,he held major championships in the super featherweight (WBC, 1983), lightweight (WBC, 1985), and junior welterweight (WBO, 1989 and 1991) divisions. After earning minor titles in four additional weight classes, Camacho became the first boxer to be recognized as a septuple champion. As an amateur, Camacho won three New York Golden Gloves Championships. Camacho won the 1978 112 lb Sub-Novice Championship, 1979 118 lb Open Championship, and 1980 119 lb Open Championship.His professional record stands at 79 wins (45 by KO), 6 losses, and 3 draws.Notable wins:Roberto Durán2x, Sugar Ray Leonard, Ray Mancini.
Julio César Chávez
González (July 12, 1962) is a retired Mexican professional boxer. He is considered by acclamation as the greatest Mexican fighter of all time and as one of the best boxers of all time.
Chávez is a six-time world champion in three weight divisions, and for several years he was considered the best pound-for-pound fighter in the world.In a career that spanned over 25 years, Chávez won the WBC Super Featherweight in 1984, WBA Lightweight in 1987, WBC Lightweight in 1988, WBC Light Welterweight in 1989, IBF Light Welterweight in 1990, and WBC Light Welterweight in 1994.
He holds records for most successful defenses of world titles (27), most title fight victories (31), most title fights (37), and he is after Joe Louis (with 23) for most title defenses won by knockout (21). Chávez also has the longest undefeated streak in boxing history, 13 years.Chávez finally retired in his 25th year as a professional boxer with a record of 107 wins, 6 losses and 2 draws, with 86 knockouts. Notable wins:Meldrick Taylor2x,Hector Camacho,Greg Haugen.
Bernard Humphrey Hopkins
, Jr. (born January 15, 1965) is an American boxer who was a world middleweight titlist from 1994 until 2005, unifying and successfuly defended his title a record 20 times. He won the International Boxing Federation title in 1994, then added the World Boxing Council, World Boxing Association, and The Ring titles in 2001 and became the first man to hold all four major sanctioning bodies' titles when he won the World Boxing Organization title in 2004. The Ring ranked him #3 on their list of the "10 best middleweight title holders of the last 50 years." Hopkins moved up to light heavyweight and won the Ring and International Boxing Organization titles from Antonio Tarver at 42 years of age, making two defenses of the Ring title before losing it to Joe Calzaghe. Three years later, Hopkins defeated Jean Pascal for the WBC title and broke George Foreman's record for oldest fighter to ever win a world championship at the age of 46. Hopkins later broke his own record by winning the IBF title from Tavoris Cloud in 2013 and again in 2014 when he won the WBA title from Beibut Shumenov, aged 48 and 49 respectively. Professional boxing record 55 Wins (32 knockouts), 7 Losses, 2 Draws, 2 No Contests. Notable wins:Roy Jones, Jr.,Oscar De La Hoya,Antonio Tarver,Kelly Pavlik,Félix Trinidad.
Floyd Mayweather, Jr.
(born Floyd Joy Sinclair, February 24, 1977) is an American professional boxer. He is undefeated as a professional and is a five-division world champion, having won eleven world titles and the lineal championship in four different weight classes. Mayweather is a two-time Ring magazine Fighter of the Year (winning the award in 1998 and 2007); he also won the Boxing Writers Association of America (BWAA) Fighter of the Year award in 2007 and the Best Fighter ESPY Award in 2007, 2008, 2010, 2012, 2013, and 2014.
Mayweather is the WBC, WBA, WBO and Ring welterweight champion, and the WBC Super, WBA, and Ring junior middle weight champion. He is also rated as the best pound-for-pound boxer in the world by many sporting news and boxing websites, including Ring, Sports Illustrated, ESPN, BoxRec, Fox Sports, and Yahoo! Sports. Mayweather had an amateur record of 84–6 and won national Golden Gloves championships in 1993 (at 106 lb), 1994 (at 114 lb), and 1996 (at 125 lb). At the 1996 Olympics in Atlanta, Mayweather won a bronze medal by reaching the semi-finals of the featherweight (57-kg) division. Professional boxing record 48 Wins (26 knockouts, 22 decisions), 0 Losses, 0 Draws. Notable wins: Manny Pacquiao, Oscar De La Hoya, Miguel Cotto.
Emmanuel
"Manny" Dapidran Pacquiao
, PLH (born December 17, 1978), is a Filipino world champion professional boxer. He is the first and only eight-division world champion,in which he has won ten world titles, as well as the first to win the lineal championship in four different weight classes. He was named "Fighter of the Decade" for the 2000s (decade) by the Boxing Writers Association of America (BWAA), World Boxing Council (WBC) and World Boxing Organization (WBO). He is also a three-time The Ring and BWAA "Fighter of the Year," winning the award in 2006, 2008, and 2009, and the Best Fighter ESPY Award in 2009 and 2011.He is currently ranked number five on the Ring and the longest reigning top-10 on the pound-for-pound list. Pacquiao reportedly had an amateur record of 64 fights (60–4). Professional boxing record 57 Wins (38 knockouts, 19 decisions), 6 Losses (3 knockouts, 3 decisions), 2 Draws. Notable wins: Oscar De La Hoya, Miguel Cotto,Shane Mosley.
The Top 10 Heavyweight Boxers
http://www.bgol.us/board/showthread.php?t=847873
Last edited: