Art Lover ❤️ Sex Addict®™
Staff member
BRUCE'S BEACH, MANHATTAN BEACH, CALIFORNIA (1920- )
POSTED ONFEBRUARY 18, 2014BY CONTRIBUTED BY:
RONALD J. STEPHENS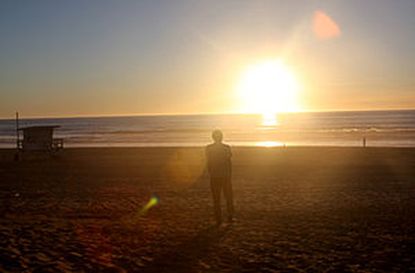 Bruce's Beach at Sunset
Image Ownership: Public Domain
A small beach resort community in the City of Manhattan Beach,
California
, Bruce's Beach was once owned by and operated for African Americans with no opportunities to vacation at white resorts due to
segregation
. Bruce's Beach was one of the few beaches in southern California in the 1920s that was not off-limits to African Americans.
Charles and Willa Bruce​
When first incorporated in 1912, George H. Peck (1856-1940), one of the founders of Manhattan Beach, rejected the practice of racial exclusion and had a clause written into the city's deed stipulating that two city blocks of beach-front area would be set aside for African Americans to purchase. This allowed Charles and Willa Bruce,
entrepreneurs
and new settlers in the community, to purchase the property for $1,225 in 1912, add on three additional lots, and then to build Southern California's first black beach resort. The admiration for Southern California's good life and the vision of the new owners encouraged the building of new homes and cottages that would cater exclusively to African American vacationers, many of whom craved the ocean breezes, bathhouses, outdoor sports, dining, and dancing.
As more coastal land became affordable and available for purchase, and the African American population in Los Angeles increased, this brought more black vacationers to Bruce's Beach, which also meant more white opposition in the white community and resentment towards the black beachfront resort. By the early 1920s the Ku Klux Klan had garnered a local following who declared the African Americans who frequented Bruce's Beach would no longer be welcomed in town. The City of Manhattan Beach condemned Bruce's Beach, and some residents pressured black property owners to sell their land at prices below fair market value. Other properties were seized through eminent domain proceedings commenced in 1924. These actions forced both the black landholders and most black beachgoers to relocate to the newly established black-only section of Santa Monica Beach known as "The Inkwell."
Manhattan Beach tried to lease the Bruce's Beach land to a private individual as a whites-only beach, but relented in the face of a civil disobedience campaign organized by the
NAACP
in 1927. Over time the beach area was called City Park or Beach Front Park. In 2006, the ownership changed again. In response the Manhattan Beach City Council renamed the area Bruce's Beach and it was officially designated as such during a public ceremony there on March 31, 2007.
The park sits on a slope overlooking the ocean. It includes rolling grassy terraces with benches and small trees, and is located a few blocks from the beach between 26th and 27th street, and runs west from Highland Avenue to Manhattan Avenue.