Rising Star
Certified Pussy Poster
http://www.rollingstone.com/music/f...ince-rolling-stones-lost-cover-story-20160502
A Final Visit With Prince: Rolling Stone's Lost Cover Story
Scenes from an intimate 2014 interview at Paisley Park
Brian Hiatt
May 2, 2016
More News
Read Prince's Lost Rolling Stone Interview
Inside Prince's Funky First Recording Sessions
Prince Insider Alan Leeds on 'Purple Rain' Hysteria
All Stories

Inside Prince's Paisley Park: My Amazing Visit
Author recalls 1999 visit to late star's storied studio
The office is on the second floor of the 65,000-square-foot Paisley Park compound. The little guy sitting at the keyboard owns it all, had it all built back in the Eighties. And
Prince
being Prince, it's fascinating to watch him do just about anything. The more ordinary the activity – clicking a mouse, say – the weirder it feels. Prince has a large Afro, and he's dressed in dark, diaphanous layers, with a vest over a flowing long-sleeved shirt, form-fitting grayish-black slacks, and sneakers with high Lucite heels that light up with every step. He's wearing obvious makeup – foundation, eyeliner, probably more. His thin, precision-trimmed mustache extends just past his lips in a semicircle.
On characteristically short notice, Prince invited me here to report what we intend to be his seventh
Rolling Stone
cover story. I spend seven hours at Paisley Park, and he sits for two lengthy, thoughtful, amiable interviews. I was told not to curse or to ask about the past; though I eventually violate both rules, he invites me to join him on the road later. In the end, however, he won't sit for a photo shoot, instead offering us pre-prepared, heavily retouched pictures. The whole thing falls through. I hold on to my reporting, assuming, all too correctly, that we will save the material for our next Prince cover.
That night, Prince doesn't look his age – doesn't look any particular age, really. He's very thin, but not fragile – a strict vegan who, by his own account, sometimes doesn't eat at all ("I have gone long periods with no food, and also water – people have to remind me to drink water because I always forget to do that"). He doesn't sleep enough, either, and he avoids sex: One of the most deliriously sensual performers who ever lived – the one who sang "Jack U Off" and "Gett Off" and "Do Me, Baby" – insists he's celibate. His reasons are both religious and "energy"-related ("The hunger turns into something else," he says), though he maintains close relationships with several young female singer-songwriters. He is, at this stage in his life, a kind of cheerful musical monk. "I
am
music," he says. Playing it is his greatest and perhaps only pleasure. But he's been an ascetic even on that front as of late, recording less than ever, waiting four years between albums. It'll stand as the longest break of his career.
Prince famously liberated himself from his record deal with Warner Bros. in 1996, and it apparently took him years to realize that his freedom extended to
not
releasing music. "I write more than I record now, and I also play live a lot more than I record," he says. "I used to record something every day. I always tease that I have to go to studio rehab.
"I'm a very in-the-moment person," he continues. "I do what feels good in the moment. ... I'm not on a schedule, and I don't have any sort of contractual ties. I don't know in history if there's been any musicians that have been self-sufficient like that, not beholden. I have giant bills, large payrolls, so I do have to do tours. ... But there's no
need
to record anymore." He makes a direct connection between fasting, celibacy and his abstention from recording. "After four days, you don't want food anymore. ... It's like this thing that says, 'Feed me, feed me.' When it realizes it's not going to get fed, it goes away. ... It's the same with music. I had to see what it's like to stop making albums. And then you go, 'Oh, wait a minute, I don't feel the need to do that anymore.'"
Prince brings me up to the office to play tracks from
Plectrum-Electrum,
the album that would finally break his recording fast. He chose from 100 or so songs laid down in one of the downstairs studios with his recently formed backing band, 3rdEyeGirl – the hardest-rocking ensemble he ever assembled. "All recorded live, no punch-ins," he says. "You just do it till you get the take you like." (The album doesn't come out for another eight months, by which time it's accompanied by a more traditional Prince LP called
Art Official Age.
)
Prince and I meet for the first time a few minutes earlier, as he emerges from a rehearsal space with the young women of the band. Hannah Welton, the drummer, a bubbly 23-year-old who looks like Carrie Underwood and plays like John Bonham, introduces herself brightly: "Hi, I'm Hannah!" Prince laughs, not unkindly, and imitates her, chirping "Hi, I'm Prince" in a high voice, as he reaches out a firm, businesslike handshake. His actual speaking voice is deep, soft and calming, like a DJ on a smooth-jazz station.
As we walk along, he shows no sign of reported double-hip-replacement- surgery – no limp, no cane, no apparent discomfort. His brown eyes are alert, and his wit is quick – looking back, it's nearly impossible to square his affect with posthumous rumors of an opioid addiction. He claims not to feel the passage of time, and says mortality doesn't enter his thoughts: "I don't think about 'gone.'" To the contrary, he is immersed in the moment, invested in a creative future that he believes will be long and bright. The pause between albums seems to have been healthy for him, as is the youthful, enthusiastic, near-worshipful presence of the 3rdEyeGirl members. For the first time in years, he's been opening up Paisley Park to local fans for spontaneous events. There's talk of staging one of these shows on the night of my visit, though it evaporates with no notice.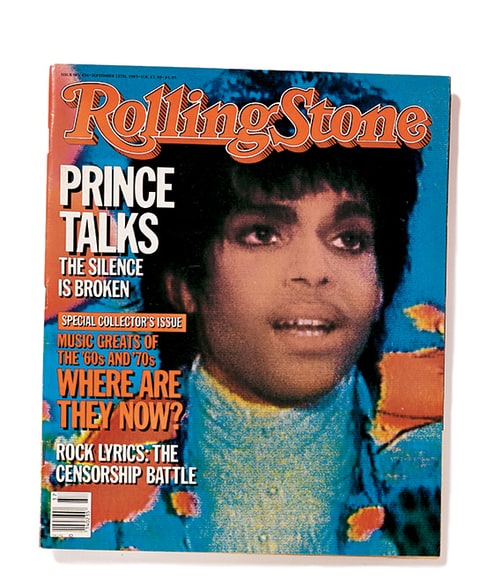 On his way upstairs, Prince struts past a hallway decorated with a photographic timeline of his career – there's "Batdance" Prince, "Slave"-on-his-face Prince and even his 1985
Rolling Stone
cover (he notes that he refused to do a photo shoot, so we ran a still from a video that, in his considered opinion, made his teeth look strange). "There's room for
Purple Rain
or the Super Bowl here," he notes of one empty space, murmuring something about eventually turning Paisley Park into a museum. It already seems a bit like one: a huge, dark, nearly empty space with only a skeleton crew on hand.
We stop at a mural where a painted image of Prince, arms spread, stands astride images of his influences and artists he, in turn, influenced. He tests me, making sure I can recognize Chaka Khan and Sly and the Family Stone, while giving me a pass on missing Tower of Power and Grand Funk Railroad.
Playing the album in his office, he charmingly takes pains to turn the player's visualizer function on, providing state-of-2002 fractal accompaniment to the music. On a stand in the corner is a century-old Portuguese guitar with a teardrop-shape body. A Canon telephoto lens with no camera attached sits atop a couple of coffee-table books:
Vanity Fair's Hollywood
;
Palaces of Naples.
The walls of the office are painted in a blue-skies motif, with the words "Dream Style" on one of them. Hanging on another wall is a clock emblazoned with the cover of his 2007 album
Planet Earth
– the only timepiece of any kind I see anywhere in Paisley Park.
Between songs, Prince laments the state of a music industry he thinks is focused on anything but music. "You're trying to find the personality first, make sure you've got that locked in," he says. "And it's better if they got scandal on 'em or a reality show or sex tape. And they have it down to an art. They're getting street cred for Justin Bieber now!"
He puts on one of the album's poppier tracks, the sweet throwback "Stopthistrain," with vocals from 3rdEyeGirl drummer Welton and her husband, Josh. I suggest, gently, that the song might fare best on the charts if no one knows of its Prince connection. He nods. "That's kind of the blessing and a curse these days," he says, "that I'm competing with [my] older music. And I don't know anybody who has to do that. They always play Beyoncé's latest track. But I go on
Oprah
and they want me to play what
they
remember."
He ends by previewing a couple of songs from what will become
Art Official Age
, excusing himself from the room when he gets to the wailing ballad "Breakdown." The breakup-themed lyrics seem particularly personal: "I used to throw the party every New Year's Eve/First one intoxicated, last one to leave/Waking up in places that you would never believe/Give me back the time, you can keep the memories." Afterward, he confirms that the song comes from a "sensitive ... nude" place: "You could touch it and it would just hurt instantly."
Before Prince sits for an interview, there is another test. I sit and chat with the members of 3rdEyeGirl in a cavernous atrium, where the black carpet is decorated with Prince's old symbol and the words "NPG Music Club," and the motorcycle from
Purple Rain
is on display above. We gather on a purple couch that is noticeably frayed, and they explain their unlikely origins. The bassist, taciturn Denmark native Ida Nielsen, arrived first, joining Prince's bigger funk band, the latest incarnation of the New Power Generation, which he's still gigging with as well. Prince tells me how she beat out an old bandmate of his who re-auditioned: "She was eight times better than him, and she was new."
Prince specifically wanted a female band, seeking out members via YouTube – back in 2010, he had discovered Nielsen on MySpace. "We're in the feminine aspect now," he says. "That's where society is. You're gonna get a woman president soon. Men have gone as far as they can, right? ... I learn from women a lot quicker than I do from men. ... At a certain point, you're supposed to know what it means to be a man, but now what do you know about what it means to be a woman? Do you know how to listen? Most men don't know how to listen."
I ask 3rdEyeGirl's guitarist, Donna Grantis, who has a half-shaved head and Hendrixian chops, about her influences. "Prince," she says, flatly. Her husband, a pleasant rocker dude named Trevor Guy, came along with her and ended up working closely with Prince, serving some managerial functions. (Prince believes artists shouldn't have managers: "You should be a grown man, be able to
man
-age yourself.") Josh, Welton's husband, an R&B-singer-turned-producer, also became part of the Paisley family, working on some of Prince's final albums. They've all been living in a nearby hotel for a year and a half, spending at least six days a week in Paisley Park. They come off as members of a benign cult. "It's sort of like an alternate reality," says Grantis. "It's an alternate universe being here, because we're in this awesome bubble of, like, making music all day. I have no idea what the date is or what day it is."
"It's an alternate universe being here," says 3rdEyeGirl guitarist Donna Grantis (left) of working with Prince at Paisley Park. Ethan Miller/Getty
As we talk, I glance over my shoulder and realize that Prince has at some point materialized behind me, silently eavesdropping. He nods and moves away again into the darkness. The band and I go into the industrial kitchen, where we're served dinner, and I am soon summoned into the control room of the complex's Studio A, where Prince sits at the mixing desk. "This room was built in '87, and the first record I did in here was
Lovesexy,
" he says. "We never really got this room clickin' like any of my home studios or the hot-rodded boards I used in Los Angeles when I had a record deal. It's real cozy and private – I just kinda wished it sounded like what goes on in my head. And I've been tinkering with things forever. ... I suppose I will keep messing with it – or another generation will."
We talk of many things, and his ban on discussing the past turns out to be slightly flexible. He makes a point of noting that his reputation as the puppet master behind the Time and even Vanity 6 was exaggerated. "It was all collaborative," he says. "It's not just my vision. It's one thing to say, 'You know what would be cool?' and visualize it ... but then you've got to actually find the people. [The Time's] Morris Day is as good as any funk drummer who ever did it. And Vanity? Nobody could talk like her." He's most passionate and lucid when he talks about music: "'Rock Steady' by Aretha Franklin, 'Cold Sweat' by James [Brown], all the Stax records, Ike and Tina Turner – we took it for granted, thinking that music would always be like that. That was just normal to us."
There are frequent, sometimes tricky-to-follow digressions: He seems to have branched out from his study of the Bible, which began in earnest when he became a Jehovah's Witness under the tutelage of bassist Larry Graham. "It's just all expanded," he says. "Anything I believed then, I believe even more now – it's just expanded." While still deeply Christian, he's also spent time studying what appears to be an Afro-centric interpretation of history, along with the physics of sound, some Eastern ideas (chakras are "science," he says) and a selection of unabashed conspiracy theories. He has thoughts on the JFK assassination ("The car slows down – why doesn't it speed up?"); AIDS ("It's rising in some communities, and it's not rising in others – any primate could figure out why"); and the airplane trails known in some circles as chemtrails ("Think about
where
they appear,
why
they appear, how often and what particular times of the year").
At one point, the phone rings: It's the young British singer-songwriter Delilah. Prince's voice suddenly gets even deeper. "I know it's late there," he purrs into the handset. "I'm going to
will
you awake." On a possibly related note, Prince says he's unsure if he'll marry again. "That's another thing that's up to God," he says. "It's all magnetism anyway – something would pull me into its gravity, and I wouldn't be able to get out from it."
We take a break and head to Paisley Park's empty nightclub, where 3rdEyeGirl are waiting onstage. "I can take you out there and hit this guitar for you," Prince promised earlier, "and what you'll hear is sex. You will hear something where you'd run out of adjectives, like you do when you meet the finest woman." He wants to prove that 3rdEyeGirl can activate my chakras, so he seats me on a stool onstage, no more than three feet away from him. He picks up a custom Vox guitar – the brand some of James Brown's guitarists played. "You're gonna start vibrating in a second," he tells me, and kicks the band into the fiery Seventies fusion instrumental "Stratus," tearing through solos that arc endlessly upward. He warned of goose bumps, and delivers.
Afterward, the band does a photo shoot in Studio C – one shot is intended for the cover of a "Stopthistrain" single that never actually comes out. Prince disappears for a while before returning with a MacBook that has Delilah live on Skype – he shows her the shoot via webcam. It's past midnight when we begin talking again. He mentions a desire to mentor Chris Brown, says he invited him to Paisley Park. I note that some people think what Brown did to Rihanna was unforgivable. He's shocked. "Unforgivable?" he says. "Goodness. That's when we go check the master, Christ. ... Have you ever instantly forgiven somebody?" I shake my head. "It's the best feeling in the world, and it totally dismantles that person's whole stance."
Prince performs at the Hollywood Palladium on March 7th, 2014. Jeff Kravitz/Getty
He talks more about mentoring and helping peers, so I wonder aloud if he thinks he could've forestalled Michael Jackson's fate. "I don't want to talk about it," Prince says at first. "I'm too close to it." He goes on: "He is just one of many who have gone through that door – Amy Winehouse and folks. We're all connected, right, we're all brothers and sisters, and the minute we lock that in, we wouldn't let anybody in our family fall. That's why I called Chris Brown. All of us need to be able to reach out and just fix stuff. There's nothing that's unforgivable."
He seems to be hinting at past problems of his own, so I ask if he was ever self-destructive. His eyebrows shoot up. "Self-destructive? I mean ... do I
look
self-destructive?" This leads him to a disquisition on why he avoids talking about the past. "People say, 'Why did you change your name?' and this, that and the other. I'm here right now, doing what I'm doing right now, and all of the things I did led up to this. And there is no place else I'd rather be than right now. I want to be talking to you, and I want you to
get
it."
We talk about retirement. "I don't know what that is," he says. "There's always some way to serve. ... It feels like I'm teaching at a school, but also a student at one. I never felt like I had a job – does that make sense? So those words, 'job' and 'retire' ..."
He tries to explain why he can imagine playing into old age, with a dizzying detour into mysticism via the Wachowskis. "Life spans are getting longer," he says. "One of the reasons is because people are learning more about everything, so then the brain makes more connections. Eventually, we'll be in eternal brain mode because we'll be able to hold eternity in our minds. A lot of people can't do that. If you can't think all the way
back
eternally, you can't think all the way
forward
eternally. Everybody usually thinks about a beginning, a big bang. If you take that event out, then you can start to see what eternity is. Remember in
The Matrix
where they said the only thing that has an ending had a beginning, and vice versa?"
It's nearly 2 a.m., and Prince is done for the night. He walks me through the depths of Paisley Park, his shoes glowing in the dark, to retrieve my jacket and bag. As we walk, I hear doves cry – actual doves that live in a cage somewhere in the rafters. As I put on my coat, Prince invites me to join the band in London. The zipper catches badly on the way up. "Fuck," I say, and my host looks stricken.
"So much for not cursing," he says.
I apologize. Prince looks me in the eyes, and wraps me in a tight hug. I am, as promised, dismantled by his instant forgiveness. I can still feel that embrace as I walk outside, where moonlight shines on a thick layer of immaculate, freshly fallen snow.
Prince ruminated on sex, music and death in a previously unpublished 2014 interview. See excerpts from the interview below.