Rising Star
BGOL Investor
I never shared that my parents passed from Covid-19... 22 days from each other, last year.
My mother April 13th.
Father May 5th.
Since their passing I have been on a writing streak, writing like crazy.
All of my books deal with the African-American diaspora.
Just informing our children about "our" history, since certain states want to
deny truth, that things pertaining to black folks never happened.
Book #2
Little black girl with a chip on her shoulder runs away from her class
and runs into Madam CJ Walker, Harriett Tubman, Medgar Evers,
Rosa Parks, Ruby Bridges and Emmett Till.
This was originally a school play I wrote 10 years back, I turned it into a book.
The Hologram Room
BOOK
Book #3
Three friends learn the creation and dismemberment of the Negro League Baseball
The Adventures of C.A.M.: Full of All-Stars
(An Amazon Best-seller)
BOOK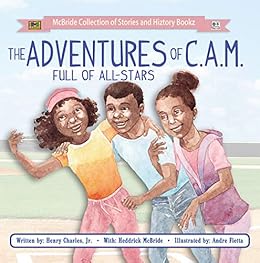 Book #4
Three friends learn that there were three black women who played
professional baseball in the Negro League.
The Adventures of C.A.M.: Full of All-Stars 2
BOOK
Book #5
**I signed someone to my publishing company**
A little boy transitions from an only child, to a big brother.
Big Brother
(An Amazon Best-seller)
BOOK
​
Last edited: